Hey folks! I'm here today to announce the next challenge over at
Pattie's Creations Design Challenge
. This time around for
Challenge #135
, the theme is
For the Boys--Use a Masculine Image
. With Father's Day coming up it's the perfect time to create a card with a masculine image. Additionally, there is always a need for birthday cards, thank you cards, friendship or thinking of you cards for the many men in your life! I know that some people have a difficult time with masculine cards so this is a good time to stretch those muscles.
Here is my card, I hope that I haven't forgotten any important details:
General Info:
This card has been created 100% digitally and then layered in a Mock Up (courtesy of Frisk Shop). I will print it out and assemble it a later date.
FRONT
Digital Image Details:
Ships Wheel Rope Circle: Such a great image. You can find it in Pattie's Etsy shop by clicking on the name or watermark linked below.
This image has been coloured digitally using Photoshop Elements.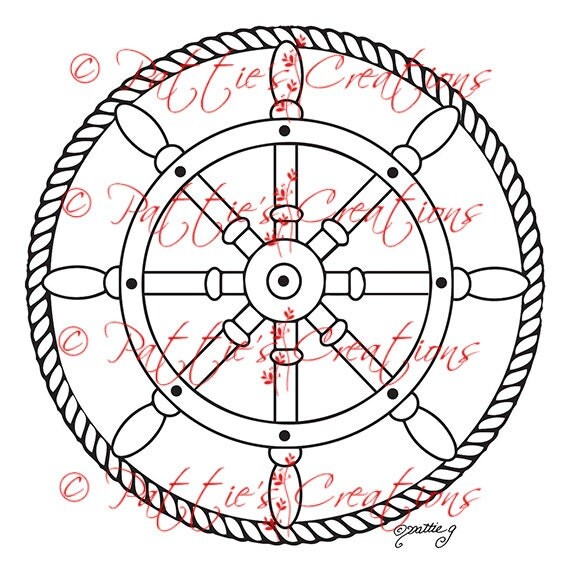 Digital Embellishments:
The brads are from the Brads & Buttons section of my A Touch of Class kit which is available for sale in the Scribbles Designs store. You can find it HERE.
INSIDE
Digital Sentiment Details:
The sentiment on the top part was created by Paulette from Create with TLC. You can purchase it in the "F is for Father" Digi Image and Word Art Set available HERE. For great freebies and inspiration be sure to click HERE to go to Paulette's blog and for awesome sets for purchase, click HERE to go to the home page of the store. This sentiment has been recoloured to suit the purposes of this project.
The lower sentiment, "Thanks for always..." was created by me.
OVERALL
Digital Paper Products:
The paper I used, which couldn't have been any more perfect, is from the Nautical Kit created by Kristy B. and is available for sale in the Imagine That Digistamp store. You can find it HERE.
Digital Embellishments:
I have used basic shapes in Photoshop Elements to create matting in behind the image and the sentiment.
I have applied shadow layer styles to give certain elements some depth. These styles were designed by Sheila Reid, Pixel Scrapper.
Challenges I am hoping to enter...
You have until July 6th to enter our challenge which should give you lots of time to get a creation done. Remember the theme is
For the Boys--Use a Masculine Image
. I really hope that you will be able to join us. You can enter twice per challenge and of course MUST follow all the challenge requirements that are posted for each challenge (please click
HERE
to become familiar with all the rules). In addition to all the typical criterion, you MUST USE A DIGITAL OR STAMPED IMAGE to qualify for the drawing (unless stated otherwise). We would absolutely love to see you use a
Pattie's Creations
(PC) image on your card, but you are allowed to use other images. If you do use a PC image, you will gain an extra entry in the draw and will have a better chance to WIN! Easy Peasy right!
Pop over to the challenge blog and check out what my fabulous teammates have offered up for inspiration. Oh and don't forget...Pattie offers up a new freebie the first Friday of the month and it will remain up for approximately two weeks; so, be sure to pop over and check it out as well!
Well guys, that is it for this one. Hopefully I will see you all very soon.
Until next time,