Hello there! It is time to get my progressive card for the
Gerda Steiner Designs
Progressive Challenge uploaded.
Check out the cute image that we got to work with this month...
Everyone who played along in last month's challenge received
Strawberry Mouse
for free. If you decide to hop on and play along in the Gerda Steiner Designs Progressive Challenge, then you can purchase this digital by clicking
HERE
(or on the watermark above to head to its location in the store). This way you'll receive next month's digital stamp for free.
Here are my card and details...
General Info:
This card has been created 100% digitally and then layered in a Mock Up (courtesy of Frisk Shop). I will print it out and assemble it a later date.
Here is one of the things that is so AWESOME about creating digital backdrops for your cards. When you are in a hurry but still want to do a great job, you can re-use backgrounds or layouts that you've used before. Case in point: I'm in my head overwater right now and had to get my card done for this challenge. The image reminded me of a card I did earlier this year and the original card base--layout, papers, etc. were perfect as a backdrop for this particular card. I still had to put in a few hours to colour my image, a bit of time to tweak the card itself to accommodate a smaller sized image, and change the sentiment on the inside but I saved a bit of time by using an existing design. In the end, though the two cards may be similar, each is unique in its own way.
FRONT
Digital Image Details:
Strawberry Mouse: You can find this image in the store. Details above.
This image was coloured with a combination of digital painting and paper piecing. Credits include:

The mouse was paper pieced with a fur texture from Salic33 (via Deviant Art) and then I added shade to give it some depth.
Strawberries were coloured by hand digitally.
The sky and clouds were created using a pattern courtesy of Webtreats, Etc.
The grass was created from an image from Textures4Photoshop.
Two Strawberries: This was the perfect image to add to the sentiment. You can find it in the Pattie's Creations Etsy shop by clicking on the image name or watermark linked below.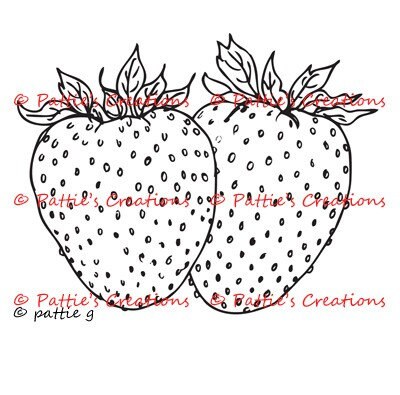 Digital Sentiment Details:
Digital Embellishments:
The buttons were created using a template and the button strings were an existing element that I recoloured to suit the purpose of this card. Both of these items were originally designed by Sheila Reid, Pixel Scrapper.
INSIDE
Digital Image Details:
Strawberry Love Heart: This is such a pretty image that works so well as a frame. This image can also be found in the Pattie's Creations Etsy store.
I decided to just colour the outline instead of all the berries to give it a sort of outline silhouette look.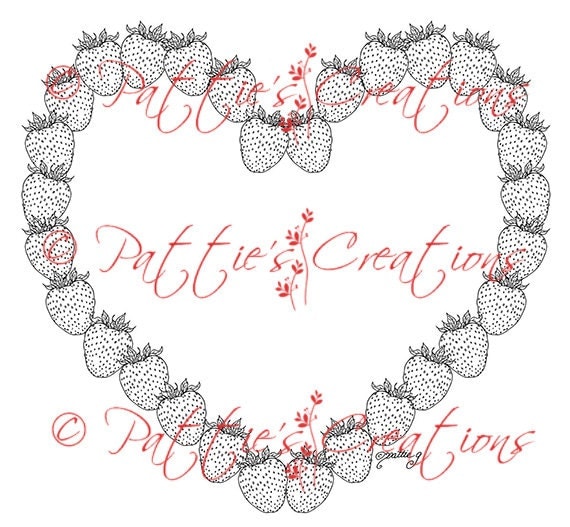 Digital Sentiment Details:
The sentiment used on the inside of my card was also created by Paulette from Create with TLC.
OVERALL
Digital Paper Products:
I have used two papers from the Tooty Fruity kit, along with a paper from the Satin Fabrics kit. All these papers are from Imagine That Digistamp. Click on the wms below to find them in the store.
Digital Embellishments:
I have used basic shapes in Photoshop Elements to create matting in behind the image and the sentiment.
I have applied shadow layer styles to give certain elements some depth. These styles were designed by Sheila Reid, Pixel Scrapper.
Challenges I am entering:
Challenges I am hoping to enter..
Well guys, that is it for this one. I'm busy behind the scenes as usual. So much to do and so little time to do it in! I hope all is well in your world and I hope to be back with again soon!
Until next time,