Hey folks! I'm here today to announce the next challenge over at
Pattie's Creations Design Challenge
. Before I start, I just wanted to say a big
HAPPY ANNIVERSARY
to
ME
--This month marks my
THIRD year with Pattie's Creations!!!
I cannot believe how quickly the time has passed. Since I started back in February of 2014, there have been lots of team changes--in fact, I'm the only team member still around from three years ago, all the designers currently on the team have come on since that time. Though, there are two people that have been constant during my time and that is Pattie herself, the owner and designer of the wonderful images I get to use each month, and her sister Sandi, who is our Team Leader. Thanks so much to these two lovely ladies for all their hard work and also for believing in me and keeping me around! I look forward to my future as a designer on this team.
Right now, it is time to get back to the details of this challenge. This time around for
Challenge #131
, the theme is
Lots of RED
. You can go the traditional route with hearts and/or flowers since Valentine's Day is fast approaching; or, you can take a non traditional road like I did and make something different. As long as you use lots of RED in your project, the form it takes is up to you!
Here is my card, I hope that I haven't forgotten any important details:
General Info:
If you have been with me for a while, you know my fondness for puns! I thought this would make a berry sweet card for my momma's upcoming birthday.
This card has been created 100% digitally and then layered in a Mock Up (courtesy of Frisk Shop). I will print it out and assemble it a later date.
FRONT
Digital Image Details:
Strawberries In Basket: I love this beautiful basket of strawberries. You can find it in Pattie's Etsy shop by clicking on the image name or watermark linked below.
This image has been coloured digitally.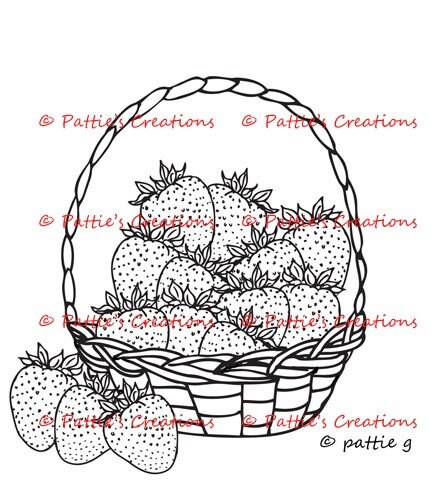 Two Strawberries: This was the perfect image to add to the sentiment. It can also be found in Pattie's Etsy store.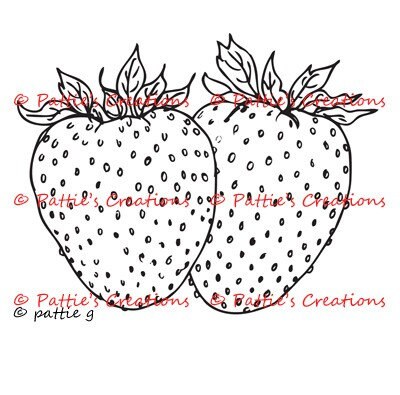 Digital Sentiment Details:
Digital Embellishments:
The buttons were created using a template and the button strings were an existing element that I recoloured to suit the purpose of this card. Both of these items were originally designed by Sheila Reid, Pixel Scrapper.
INSIDE
Digital Image Details:
Strawberry Love Heart: How could I resist adding this fabulous strawberry heart frame to the inside of my card?! This image can also be found in Pattie's Etsy store.
I decided to just colour the outline instead of all the berries to give it a sort of outline silhouette look.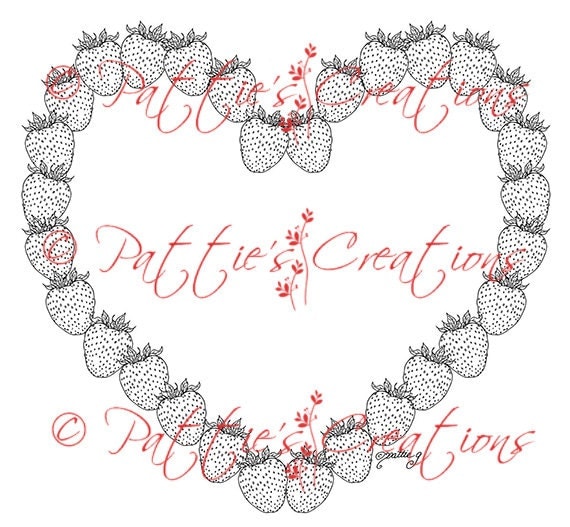 Digital Sentiment Details:
The sentiment used on the inside of my card was also created by Paulette from Create with TLC.
OVERALL
Digital Paper Products:
I have used two papers from the Tooty Fruity kit, along with a paper from the Satin Fabrics kit. All these papers are from Imagine That! Digistamp. Click on the wms below to find them in the store.
Digital Embellishments:
I have used basic shapes in Photoshop Elements to create matting in behind the image and the sentiment.
I have applied shadow layer styles to give certain elements some depth. These styles were designed by Sheila Reid, Pixel Scrapper.
Challenges I am hoping to enter..
You have until March 2nd to enter our challenge which should give you lots of time to get a creation done. Remember the theme is
Lots of RED
. I really hope that you will be able to join us. You can enter twice per challenge and of course MUST follow all the challenge requirements that are posted for each challenge (please click
HERE
to become familiar with all the rules). In addition to all the typical criterion, you MUST USE A DIGITAL OR STAMPED IMAGE to qualify for the drawing (unless stated otherwise). We would absolutely love to see you use a
Pattie's Creations
(PC) image on your card, but you are allowed to use other images. If you do use a PC image, you will gain an extra entry in the draw and will have a better chance to WIN! Easy Peasy right!
Pop over to the challenge blog and check out what my fabulous teammates have offered up for inspiration. Oh and don't forget...Pattie offers up a new freebie the first Friday of the month and it will remain up for approximately two weeks; so, be sure to pop over and check it out as well!
Until next time,