Hey folks! I'm here today to announce the next challenge over at
Pattie's Creations Design Challenge.
This time around for Challenge #122, the theme is Flowers or Mother's Day ONLY! With spring finally emerging in North America and Mother's Day this coming weekend there are lots of ideas to work with!
H
ere is my card, I hope that I haven't forgotten any important details:
FRONT
Digital Image Details:
Tulips in Vase

: Another beautiful floral image from Pattie. You can find the image in Pattie's Etsy shop by clicking on the name or watermark linked below

.

This image has been coloured with a combination of hand colouring, paper piecing, the use of a pattern and the use of a l

ayer style

.

'wallpaper' p

aper pieced

with a paper from my

Mommy Dearest

set (preview bel

ow).

Credit for

water

pattern: Webtreats
'wood table

'

p

aper pieced

with a texture from HEJBRUSH
I've added a layer style to the vase to make it appear more glass-like. Layer style purchased from Sheila Rei

d

, Pixel Scrapper.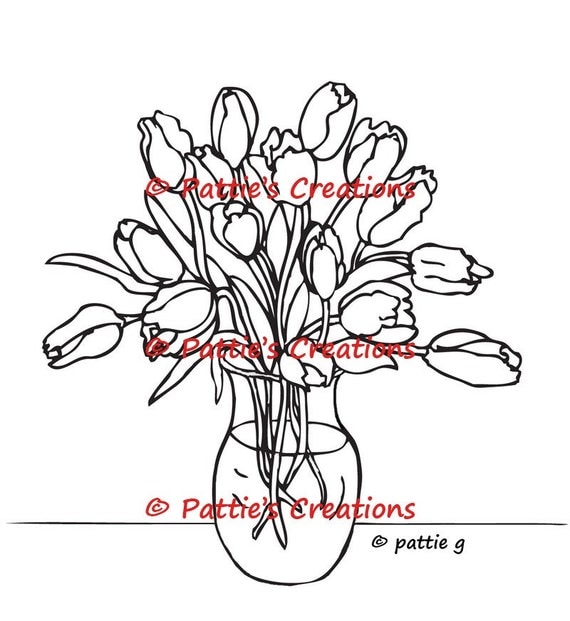 Digital Sentiment Details:
This sentiment is courtesy of Scrap-a-licious Times. It is a bit difficult to read but it says, "If mothers were flowers, I'd pick you." I thought that was perfect given the theme of my card.
Embellishments:
The half-pearls are Crafts brand and were purchased at Dollarama.
INSIDE
Digital Sentiment Details:
The sentiment on the top was created by Paulette from Create with TLC.

For great freebies and inspiration be sure to click HERE to go to Paulette's blog and for awesome sets for purchase, click HERE to go to the home page of the store.
'Momma' is from the Word Art portion of the Mommy Dearest kit. I just added 'Happy Mother's Day' to it for the purposes of this card.
Digital Image
Details:
Handcut Heart (Free)

:

I love these heart

cut outs from Scribbles Designs

. Please click on the name to find this image in the SD store

and it is available for FREE!

These images have been paper pieced with papers from my

Heartland Mini Set available for purchase HERE. I just tweaked the colours a bit on the pink and green one to match my card better.
OVERALL
Digital Embellishments:
The shapes used for matting in behind the image and sentiment are basic shapes created in Photoshop Elements.

The shadows to give each element some depth were created with a layer style, are also from Sheila Reid.
Paper Products

:
Card, image & sentiment

bases:

Michael's Recollection's Cardstock, white.
Digital Paper Products:
The paper used as a base on the front and inside, is

from my Mommy Dearest: Patterned Papers Kit. I've also used one of the patterned papers for an accent piece on the

front.
I've used one of the

textur

ed papers for an additional accent piece on the

front.
Challenges I am hoping to enter...
You have until June

2nd

to enter our challenge which should give you lots of time to get a creation done. Remember the theme is Flowers or Mother's Day

ONLY

!

I really hope that you will be able to join us. Don't forget that along with all the typical rules that apply to the majority of challenges out there (please click HERE to become familiar with all the rules), you MUST USE A DIGITAL OR STAMPED IMAGE to qualify for the drawing (unless stated otherwise). We would absolutely love to see you use a Pattie's Creations (PC) image on your card, but you are allowed to use other images. If you do use a PC image, you will gain an extra entry in the draw and will have a better chance to WIN! You can enter twice per challenge and of course MUST follow all the challenge requirements that are posted for each challenge. Easy Peasy right!

Pop over to the challenge blog and check out what my fabulous teammates have offered up for inspiration. Oh and don't forget...Pattie offers up a new freebie the first Friday of the month and it will remain up for approximately two weeks; so, be sure to pop over and check it out as well!

Until next time,