Ummm....oops. I was sure I had scheduled this post but I guess I didn't. The sad thing is that it was rea

dy to go on time.

Unfortunately, I've only been out of bed for a couple hours in the last 48 so I didn't get a chance to check and make sure my Friday posts went out. Apologies to Pattie and the gang for the lateness in getting my post published.
Hey folks! I'm here today to announce the next challenge over at
Pattie's Creations Design Challenge.
This time around for Challenge #120, the theme is GREEN is the Color and anything with Green goes! With St. Patrick's Day coming up this month and wishes for spring all around us, I'm sure that you'll have no problem creating a project with the colour

GREEN

.
H
ere is my card, I hope that I haven't forgotten any important details:
General Info:
I've kept this one pretty clean and simple. I found a card a while back from CAS(E) This Sketch #91 created by Donna that I really liked. I've cased Donna's specific card pretty closely. If you want to see the one that inspired me, just click the link to the sketch challenge.
FRONT
Digital Image Details:
Butterfly 3

: Such a pretty butterfly. It is the perfect shape for fussy cutting and folding. You can find the image in Pattie's Etsy shop by clicking on the name or watermark linked below

.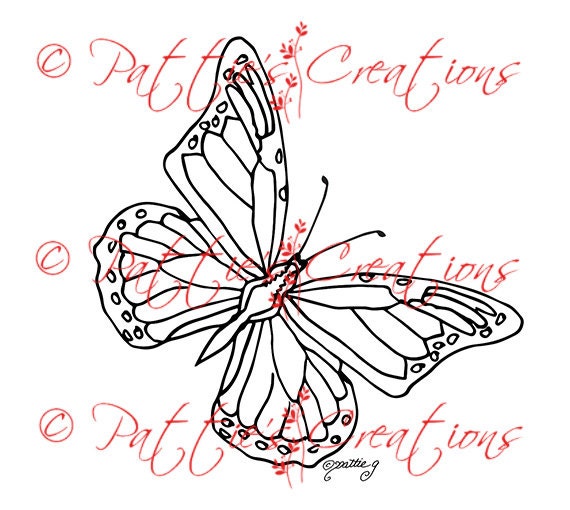 Here is close up of the butterfly to show you the dimension...
Digital Sentiment Details:
One I have created for this project.
Embellishments:
I have used some Elmer's brand washi tape picked up at Dollarama.
INSIDE
Sentiment Details:
OVERALL
Paper Products

:
Card, image & sentiment

bases:

Michael's Recollection's Cardstock, white.

Matting: Michael's Recollection's Cardstock, scrap from

my

collection.
Challenges I am hoping to enter...
You have until March 31st to enter our challenge which should give you lots of time to get a creation done. Remember the theme is GREEN is the Color and anything with Green goes!
I really hope that you will be able to join us. Don't forget that along with all the typical rules that apply to the majority of challenges out there (please click HERE to become familiar with all the rules), you MUST USE A DIGITAL OR STAMPED IMAGE to qualify for the drawing (unless stated otherwise). We would absolutely love to see you use a Pattie's Creations (PC) image on your card, but you are allowed to use other images. If you do use a PC image, you will gain an extra entry in the draw and will have a better chance to WIN! You can enter twice per challenge and of course MUST follow all the challenge requirements that are posted for each challenge. Easy Peasy right!

Pop over to the challenge blog and check out what my fabulous teammates have offered up for inspiration. Oh and don't forget...Pattie offers up a new freebie the first Friday of the month and it will remain up for approximately two weeks; so, be sure to pop over and check it out as well!

Until next time,