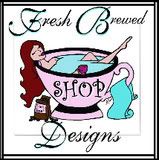 Hello and happy Wednesday to you all! It is time to bring you all some freshly brewed inspiration to perk up the middle of your week. Today starts the second week of our latest challenge going on over at
Fresh Brewed Designs. Right now we are halfway through our Give Thanks Challenge which means you have one more week to get your entries in. This is the time of year when we see a focus on gratitude as it is on many people's minds throughout the Thanksgiving season. However, remember that giving thanks is ALWAYS in season, no matter what time of year it is. We would love to see you create and enter a card expressing gratitude during this next week for your chance to win a fabulous prize!!!
YOU HAVE TO FOLLOW ALL THE RULES TO WIN!
This challenge en

ds Tuesday, December 2nd.

You can enter up to 5 times with your NEW creations (no back linking please).

If you use an FBD image, please add FBD to the end of your name.
We will be awarding one winner in each
challenge
, 3 Digital Stamps.
For all the challenge details including the link up, please click HERE.
Before I show you my card
, it is important to note the following...
Disclaimer:
It clearly states in the Fresh Brewed Designs, terms of use, that images must be hand coloured. Therefore, please note that I sought out and received permission from the owner, to create a hybrid project that is partially manipulated digitally and partially coloured in by hand. If you decide that you want to use Fresh Brewed Designs images in this way (partially digitally manipulated), you must seek out permission from Heather before doing so EACH TIME and indicate that you have, when posting.
I've gone rather untraditional with this card as I've made it into a birthday card. However, the theme of giving thanks is definitely prevalent.
Digital Image Details:
Cutie Bug Gift

: This adorable image is currently available in the FBD store. You can find it by clicking on the image watermark below.

This image has been coloured using a combination of techniques. Parts were manipulated

digitally (see disclaimer above)

and then the image was printed out and the remaining parts were coloured

by hand using Copic markers. Digital credits include:

Ribbon and bow were altered using a layer style courtesy of: HG Graphic Designs.

The gift was paper pieced with one of my papers (see info below).

Faux stitching was added around the rectangle.
Digital Sentiment Details:
I created the pennant shape digitally, coloured it and then added text before printing it. I then fussy cut the pennant out and added it to the front of the card.
Digital Sentiment Details:
I created the top part of the sentiment specifically for this card.

The 'happy birthday' sentiment was created by Paulette from Create with TLC. This is another freebie that I've used before. This time I coloured in the banner part with the same layer style that I used on the ribbon and bow from the image on the front. Click HERE to go to Paulette's blog and HERE to go to the store.
OVERALL
Card base: Michael's Recollection's Cardstock, Cool Water Collection.

Image, sentiment and pennant shape base base: Michael's Recollection's Cardstock, Cool Water Collection.
Digital
Paper Products:
I've used one of my own digital papers for this card. It is a freebie I offered up back in April. You can find it and some other birthday related goodies by clicking HERE.
Challenges I hope to enter...
Be sure to head over to Fresh Brewed Designs and check out what my fellow teammies are up to these days and of course check out the store for all the fabulous images available for purchase. You definitely won't be disappointed!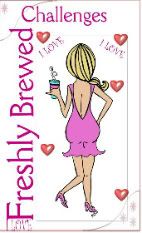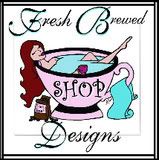 At Fresh Brewed Designs we always have a fresh pot of creativity brewing. So stop by and join us for a cuppa whenever you want!
Until next time,
Additional notes: Just a reminder...
Remember that

terms of use or angel policies will differ with each and every company selling digital images. While some companies do not take issue with their images being made into digital creations, others do, so make sure you seek permission from EACH COMPANY involved. Also, keep in mind that if you do create a digital piece of work, even with permission, this does not alter the fact that the original image belongs to the original artist(s). Creating a hybrid project DOES NOT allow you to claim the new creation as your own and do with it as you wish.

The fact that you'd be using an image for your own personal use does not automatically allow you to do what you want with another artist's work. So, please be sure to get permission first before going ahead with your ideas.