It is time to be cutified once again with a brand new release from Fresh Brewed Designs. The Cutie Bugs are at it again with a whole new bunch of antics to amuse you. I'll be back on Friday to introduce you to the whole new collection. For today, I'm going to show you the creation I made with one adorable bug in particular, Cutie Bug Yawns.

If you click on the watermark, it will open up the page over at FBD where you can find this sweet bug and all the rest...
Here are the bookmark and details. I hope I haven't forgotten anything...
General Details:
I decided that this image would be perfect for a new bookmark for ME! This isn't your typical kind of bookmark either. Several years ago my momma gave me a bookmark as part of a gift. It was probably a stocking stuffer but it has been a number of years and I just can't remember the occasion. Anyway, it was the coolest bookmark I'd ever seen because it was magnetized. I don't know about you but I seem to always lose my place with regular bookmarks because they continually fall out of my books. So, this new magnetized bookmark was absolutely perfect. Well, time has taken a toll on it and I've had to tape it up more times than I can remember. Check the poor thing out...
So, when I saw the adorable little bed bug image that I was to work with, I just knew it would be perfect for a new bookmark. I've also been thinking of creating several more of these bookmarks as they'd make great little gifts. I also have dreams of making them and them being so popular that people will want to buy them. They do say that dreams can come true. Let's hope this one does!
FRONT
Digital Image Details:
Cutie Bug Yawns: Part of the new release collection of Cutie Bugs coming out today. Oh my goodness. Isn't he just the sweetest thing! Now this is a bed bug you could live with! You can find all the new releases over at the store right now by clicking HERE.

This image was coloured in and grounded using Copic Markers.
INSIDE
Digital Sentiment Details:
One I created specifically for this bookmark based on an old saying.
Paper Products:
Bookmark, image and sentiment base: Michael's Recollection's Cardstock, white.
Digital Paper Products:
Digital paper created by me. Not released to the general public yet. It is from my Living on the Edge textured paper collection. I used the Cerulean coloured one (fourth one in on the left).
Digital Embellishments:
Faux stitching was added around each square before printing.
Other Products:
The magnets are CraftMedley brand purchased at the Dollar Tree and were cut from a larger sheet.
Other Notes:
The image and sentiment were layered on to the digital paper before printing, effectively making this a one layer bookmark.
Challenges I am hoping to enter...
Thanks so much for stopping by and checking out my bookmark and one of the latest new releases over at Fresh Brewed Designs. Remember to come back on Friday to meet the rest of the new bugs. I hope you have the chance to take some time for yourself, grab a cuppa and relax while browsing through the store. Maybe one or two of Heather's wonderful images will find their way back home with you.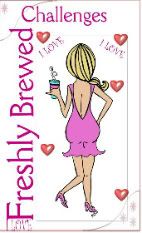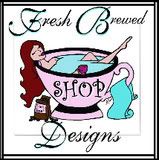 At Fresh Brewed Designs we always have a fresh pot of creativity brewing. So stop by and join us for a cuppa whenever you want!
Until next time,