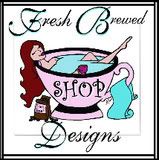 Hello and good day to all you wonderful people who've taken precious minutes out of your day to come check out my latest creation. But first, I just wanted to let everyone know that I finally have my voice back. Yippee! It took just over six weeks to return, roughly the same amount of time that it took the last time I battled a virus and lost it. I'm sensing a pattern here. I guess I just have to hope my immune system is strong enough that I'll be able to fight off future viruses...well, okay...for the rest of this year anyway.
Today I'm here to remind you of the latest challenge going on over at
Fresh Brewed Designs. Right now we are halfway through our

Red

,

White

and

Blue

Challenge which means you have one more week to get your entries in.
YOU HAVE TO FOLLOW ALL THE RULES TO WIN!
This challenge ends Tuesday, July 1.

You can enter up to 5 times with your NEW creations (no back linking please).

One winner will be chosen by random draw to receive 3 digis of their choice.

Anyone who uses an FBD image for any of the JUNE challenges will have the opportunity to win some yummy blog candy! Just put FBD after your name and make sure you tell us about it in your post! Check out what you could win, simply for using an FBD image. Pretty good incentive, I'd say...
(BLOG CANDY FOR USA RESIDENTS ONLY! If you win the blog candy and you live outside of the USA, you will be given a digital stamp gift card for the same value of the candy. I know this doesn't seem fair and I hate that it has to be this way :( IF you would like to pay shipping to receive the blog candy, we can do that too. I just can't afford to pay shipping outside of the USA at this time. Thank you so much for your understanding.)

For all the challenge details including the link up, please click HERE or on the badge above.
Here is a card that I have created to help inspire you...
FRONT
Digital Image Details:
Daffodil: The main image on the front is Daffodil. This is an image from the April selection of releases. I just love the sense of happiness and peace that exudes from this sweet image. It is currently available in the FBD store. You can find it by clicking on the image name or watermark below.
The image was coloured in with a combination of digital painting and with Copic Markers.

Digital Credits for sky: Clouds pattern courtesy of Webtreats, Etc.

The grass was creating using a standard brush available in Photoshop Elements.

The remaining elements were coloured with a variety of Copic Markers.
Digital Sentiment:
One I whipped up in a font that complimented the sentiment used on the inside of the card. I added some digital stitching around the edges.
Embossing Folder:
The lattice effect on the white cardstock was created with a Goosebumpz embossing folder.
INSIDE
Digital Sentiment:

OVERALL
Paper Products:
Card base and matting for image and sentiment on the front: Michael's Recollection's Cardstock, Cool Water Collection.

Embossed white piece on the front along with image and sentiment base: Michael's Recollection's Cardstock, white.
Embellishments:
The red metallic looking flowers are Crafts brand purchased at Dollarama.
Challenges I hope to enter...
Thanks for stopping by and taking a look. I hope you have the chance to go and check out the Daffodil image I used, along with all the other great images available in the store. I also hope you get the chance to enter our current challenge.
If you are looking for more fresh brewed inspiration, I'll be back in a couple weeks to showcase a card made with one of the fantastic new releases Heather has planned for July. You are definitely not going to want to miss any of the great new images.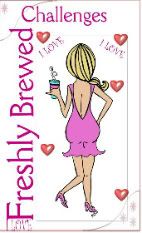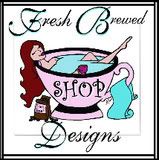 At Fresh Brewed Designs we always have a fresh pot of creativity brewing. So stop by and join us for a cuppa whenever you want!