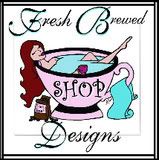 Happy Hump Day everyone! I've got some freshly brewed inspiration to serve up to you today as I'm here with a reminder about the latest challenge going on over at
Fresh Brewed Designs. Right now we are halfway through our By the Sea / Summer Challenge which means you have one more week to get your entries in.
YOU HAVE TO FOLLOW ALL THE RULES TO WIN!
This challenge ends Tuesday, August 5th.

You can enter up to 5 times with your NEW creations (no back linking please).

One winner will be chosen by random draw to receive 3 digis of their choice.

Anyone who uses an FBD image for any of the JULY challenges will have the opportunity to win some yummy blog candy! Just put FBD after your name and make sure you tell us about it in your post! Check out what you could win, simply for using an FBD image. Pretty good incentive, I'd say...
(BLOG CANDY FOR USA RESIDENTS ONLY! If you win the blog candy and you live outside of the USA, you will be given a digital stamp gift card for the same value of the candy. However, IF you would like to pay shipping to receive the blog candy, Heather is willing to do that too. Unfortunately, she just can't afford to pay shipping outside of the USA at this time. Thank you so much for your understanding.)

For all the challenge details including the link up, please click HERE or on the badge above.
Here is a card that I have created to help inspire you...
General information:
Okay, so it is apparent that this card needs an explanation. While hobbling around is my given 'go-to' considering my physical circumstances (it is difficult for me to walk unaided), these past two years it has been even worse as I hadn't been able to afford to see my chiropodist. I've been relying on the same pair of insoles for over five years and let's just say that they are basically in tatters. It is difficult to explain but the bone in the heel of my foot is trying to come out the bottom of my foot. Well, I suppose not literally, but it is much lower than it should be (I told you this was difficult to explain). Therefore, if I walk around without my special insoles for more than an hour or two, I am in significantly more pain. So, it was time to give in and go see the foot doctor and I went a couple weeks ago to get moulded for a new set of insoles. Now our chiropodist is the most wonderful, down to earth person and I just love her to pieces. She is always so kind and goes out of her way to make sure that I am comfortable throughout the entire process. Thus, I thought that it would be a nice gesture to bring a card in when I pick up my insoles next week. I hope she likes it!

How it fits into the summer time theme is that the background of the card has a bit of a boardwalk feel, the flip flops are of course summer footwear and my sentiment on the inside is summer related. So I managed to put together a summery card for a unique occasion.
FRONT
Digital Image Details:
Summer Flip Flops: The main image on the front is the flowered set of flip flops. Heather offers two different images in this set all for the low price of $3.00. The set is currently available in the FBD store. You can find it by clicking on the image name or watermark below.
The image was coloured in with a combination of digital painting and with Copic Markers.

The embossed paper piecing for the base of the flip flops was done with a paper I created using an overlay from Marisa Lerin. This template was purchased at

Pixel Scrapper. I then shaded it digitally to give it some depth.

The remaining elements were coloured with a variety of Copic Markers.

Here is a close up showing you the texture in the flip flops...
I made extra copies of the flowers in a couple different sizes so that I could fussy cut them and build them up with some pop dots to give the image some dimensionality. Here is a closer look from the side. I also popped up the base too for some extra depth.
Digital Sentiment:
One I created. I layered it right on to the background before printing.
Digital Embellishments and Other Digital Credits:
Layer style used to achieve card background (front and inside): DigiTee Designs By Sheila Reid.
The cool triangular shape overlay is from Janet Scott, picked up over at Pixel Scrapper.

The shadow on the triangular shape overlay is from

Sheila Reid as well. Only this one was purchased at

Pixel Scrapper.
INSIDE
Digital Sentiment:
Once again, just something I created specifically for this card.
Embellishments:
The feet stickers are Recollections brand and were purchased at Michaels.
OVERALL
Paper Products:
Card, image and sentiment base: Michael's Recollection's Cardstock, white.

The yellow cardstock used for matting is Michael's open stock scrapbook paper.
Challenges I hope to enter...
***Please note if anyone has a hard time understanding the connection to summer, please read the last point in my 'general info' section up at the top of this post.
Thanks for stopping by and taking a look. I hope you have the chance to go and check out the Flip Flop images I used, along with all the other great images available in the store. I also hope you get the chance to enter our current challenge.
If you are looking for more fresh brewed inspiration, I'll be back in a couple weeks to showcase a card made with one of the fantastic new releases Heather has planned for August. It is a rather unique image that I have fallen for. So, I hope you'll come back and check out the great new images at that time.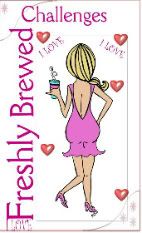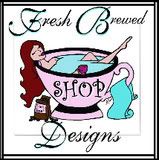 At Fresh Brewed Designs we always have a fresh pot of creativity brewing. So stop by and join us for a cuppa whenever you want!