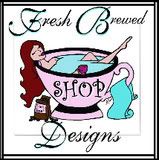 Howdy doody to all you wonderful pattooties! It is time to bring you all some freshly brewed inspiration to perk up the middle of your week. Today starts the second week of our latest challenge going on over at
Fresh Brewed Designs. Right now we are halfway through our Lots of Lattés Challenge which means you have one more week to get your entries in. It is the perfect time to be creating for this challenge. Did you know that September 29th is International Coffee Day? Well I didn't myself until I paid a visit to Create with TLC. Paulette always lets us know what obscure occasions are coming up! So get those cards done in time to celebrate and make sure that you enter our challenge with one for a chance to win!!!
YOU HAVE TO FOLLOW ALL THE RULES TO WIN!
This challenge en

ds Tuesday, September 30th.

You can enter up to 5 times with your NEW creations (no back linking please).

If you use an FBD image, please add FBD to the end of your name.
We will be awarding one overall monthly lucky winner a guest designer spot for the month of November as well as awarding one winner in each
challenge
, 3 Digital Stamps.
For all the challenge details including the link up, please click HERE.
Here is a card that I have created to help inspire you...
I am probably one of the few people on the planet (okay maybe not the planet but definitely the western world and probably parts of the eastern one) who does not drink coffee or even tea for that matter. So, this was an interesting challenge for me. However, quite a while back I had come across a fabulous saying and wrote it down to create into a sentiment in the future. Well future meet present, and as a result, I've got a great inspirational card for someone. Uh...the great implies the meaning behind the card, not the quality. Yup after two years, I'm still insecure about my abilities and still measuring them up to others; although, I'm at least not doing it as often as before so I suppose that is progress of sorts!
FRONT
Digital Image Details:
Latté Cup: The main image on the front is the Latté Cup. The image is currently available in the FBD store. You can find it by clicking on the image name or watermark below.

The image was coloured in digitally.
Digital Sentiment Details:
While I didn't create the saying (couldn't find an original author), I did create the sentiment.
INSIDE
Digital Image Details:
This tea cup is the same image that you see in the digital paper. For more details, see below.
Digital Sentiment Details:
The other half of the saying.
OVERALL
Paper Products:
Card, image and sentiment base: Michael's Recollection's Cardstock, white.
Digital
Paper Products:
I created the coffee cup paper and the tea paper using images from Scribbles Designs. I also created the textured paper used in behind the image on the front and the sentiment on the inside. Look for these new papers plus several more coming out soon as part of a new Scribble Doodle Designs paper set called, "Sip and Savour".
Challenges I hope to enter...
Thanks for stopping by and taking a look. I hope you have the chance to go and check out the Latté Cup image I used, along with all the other great images available in the store.
If you are into coffee or know people who are, then FBD is the place to be. Heather has such a wide variety of coffee images, you'll be able to easily find what you need.
If you are looking for more fresh brewed inspiration, I'll be back in a couple weeks to showcase a card made with another one of Heather's awesome new images.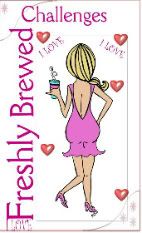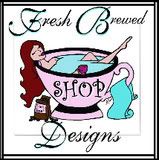 At Fresh Brewed Designs we always have a fresh pot of creativity brewing. So stop by and join us for a cuppa whenever you want!