Heather has been at the drawing board again--literally! There are some

fresh

new

images

being released today and you w

on't want to miss them!
First up Heather ha

s

some wonderful designs perfect for the men in our lives--you know, the ones so hard to create cards for. It is time to dress

them in style with the wonderful new shirts available.
Two are being released--a plain shirt that you will be able to use for any ma

le related card and

the one you see below, geared towards all of us lucky enough to still have a dad in our lives. It will also be useful for those of
you who design cards for others and need any father related images
.
Next up we have Sally. Recognize her from anywhere? For those of you who guessed that she was the image behind my new avatar, you deserve a prize. Go ahead treat yourself to something special! Like an image from the Fresh Brewed Designs Store. That would be an awesome award for you to indulge in. So when you are finished here you should

head

over to FBD and go purchase something

from

the store. You know you want to. I'll even give you some extra incentive but you'll have to stick around to the end of the

post to find out what it is. Hey--no cheating!
Now let's get b

ack to the newest face in the store.

Sally is everything I wish I was: slim, stylish and a free adventurous spirit. Maybe the longer I use her, the more sh

e will

rub

off on me.
The next image being released today is the beautiful new Blossoms and

Butterflies

image. This is such a great image that you will be able to use over and over again for many different people and occasions. As most of you know,

t

hose are my favourite kinds of stamps!
This is the image that I got to play with this week and I had so much fun working with it. Take a look at the card I created...
Here is a look at the ins

ide...
And a sideways peek at the butterflies

...
Here are the card details,
I hope I haven't forgotten anything...
Digital Image:
Bloss

oms and Butterflies

(front): As mentioned,

t

he image on the front of the card is the wonderful new release

available now in the store.

I coloured it in using Copic Markers. Blossoms: RV00, RV02, RV04 (petals) Y15, Y17

(

stamen); YG61, YG63, YG67 (leaves & stems); Butterflies: Y11, Y13, Y15, B00, B02

, B05

. Watercolour pencils were used for the ground and chalk for the sky.
Digital Sentiment:
I

n

side:

The sentiment is a freebie from the ever generous Paulette from Create with TLC. Seriously, what would I do without that woman and her s

entiments!
Card base

and shadow:

Michael's Recollection's Cardstock, South Bea

ch collection

.
Designer Papers: The butterfly paper on

the front is a digital paper courtesy of Jo over at Trimgym's Digi Stamps and Images.

I

cropped it down to the size I needed then cut it out.

Floral paper (front & inside)--K & C Company Designer Paper--Best of...florals collection.
I used Elegant edges to create the butterflies using scraps of coloured cardstock. I then pinched them up to make them three dimensional. I love the look the

y give to the overall design.
Challenges I hope to enter include:
It is po

ssible that

I'll be adding to this list as the week or month goes on.
Well that is it for Hea

ther

's

newest additions to the line up

. These

designs will be great for so many different kinds of cards

. You can find them all over at the Fresh Brewed Designs store. Now it is time to learn about your extra incentive.

I

f you go this week and purchase a digi you will get a free digi of equal or lesser value with your purchase by using the code * newdigis *. How cool is that? Two for the pri

ce of one!
Thanks for stopping by and taking a look at my first official post as a new DT member for Fresh

Brewed Designs.

I hope you have the chance to go and check out these new images and maybe even bring one or two back with you on the journey home.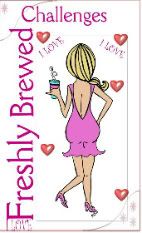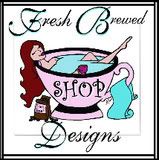 At Fresh Brewed Designs we always have a fresh pot of creativity brewing. So stop by and join us for a cuppa whenever you want!
Until next time,
Note:
I apologize if there are any formatting issues. This is a scheduled post and we all know Blogger has a mind of it's own. If it turns out that something looks wonky,
i.e.--part of the sentence is a different size, font, or colour than the rest
,
I'll fix it as soon as I'm able to

.