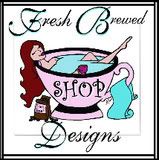 Hello and happy Friday to you all! Can you believe we're almost done January? I'm still trying to wrap my head around it. Right now, I'm here to bring you my final official DT creation as part of the Fresh Brewed Designs team. As I mentioned back in January, Heather has decided to cut the team in half so today will mark my last official post. I say official because I'm sure I'll be sharing some unofficial posts with you throughout the year. Heather is still one of my favourite designers, and not being on the team anymore is not going to change that.
There are just a few days left to enter into the latest challenge going on over at Fresh Brewed Designs. This month is is a Favourites Challenge. Use your favorite papers, embellies, or colours. Or, you can use your favorite FBD challenge from 2014. Instead, you may want to CASE one of the many FBD Designers cards. This challenge is limitless! The interpretation is up to you!!
YOU HAVE TO FOLLOW ALL THE RULES TO WIN!
This challenge en

ds Saturday, January 31st.

You can enter up to 5 times with your NEW creations (no back linking please).

If you use an FBD image, please add FBD to the end of your name.
For all the challenge details including the link up, please click HERE.
Now it is time to check out my card and all the details...
General Information:
While one might think that a 'Favourites' challenge might be deceptively easy, in my case, it certainly was not. I just have too many favourites of EVERYTHING--images, colours, etc. I finally settled on these:

Pink and black are one of my favourite colour combinations.

The two designer papers I used are among some of my favourites.

The image I used is definitely one of my favourite FBD images.

I used my favourite FBD sketch.
Now for an important bulletin...
FRONT
Digital Image Details:
Honey Bunny

: Hee, hee. I just love this image. She is even rotund like me! You can find this adorable digi stamp in the FBD store. You can find it by clicking on the image watermark below.
Digital Sentiment Details:
This great circular sentiment is courtesy of

MM Designs.
Embellishments:
The half pearls are Crafts brand and were purchased at Dollarama.
Digital Sentiment Details:
I created the sentiment specifically for this card. I thought it went well with the image and sentiment used on the front.
OVERALL
Paper Products:
Card base: Michael's Recollection's Cardstock, black.

Image and sentiment base: Michael's Recollection's Cardstock, white.

Designer Papers:

Recollection's All Girl Paper pad.
Challenges I hope to enter...
So, that's it! That's all! It has been a pleasure and an honour to be part of this team these last almost two years. I hope that you will continue to go and check out all the latest happenings over at the Fresh Brewed Designs blog and check out the store for all the fabulous images available for purchase. You definitely won't be disappointed!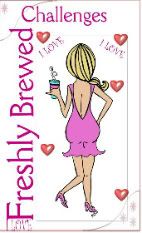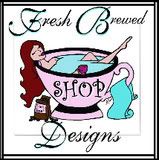 At Fresh Brewed Designs we always have a fresh pot of creativity brewing. So stop by and join us for a cuppa whenever you want!
Until next time,