Hello everyone! It is time to remind you all about the current Challenge that is going on over at Fresh Brewed Designs. Normally I'd be reminding you of the Candy challenge but since the Candy prize is being rolled into the Choose Your Challenge, we'll be looking at that one instead. We are shaking things up a bit and this will be our
LAST Choose your Challenge as
next month we will go into biweekly challenges and
will have even MORE freshly brewed fun to share with you!
Here is this month's
CHOOSE YOUR CHALLENGE
TWO PRIZES to be WON:
The winner of this challenge (chosen by random.org) will be given 3 digis of choice.

Anyone who uses an FBD image can also enter to win the BLOG CANDY pictured below.
FOLLOW ALL RULES FOR A CHANCE TO WIN:
You must add badges and link back to this post in your personal post.

You can choose to create using this sketch and/or use this photo as your inspiration piece.

You may enter this challenge up to 5 times.

Please no back linking, make sure your project is a NEW project created for this challenge

TO WIN BLOG CANDY YOU MUST USE A FRESH BREWED DIGI OR STAMP. Add FBD after your name so we will be able to find you quicker.
(blog candy will be sent to USA residents only. If you win and you are not currently living in the US, you will be sent a digital stamp gift card code worth $20)
Please add the direct link to your NEW card in the inlinkz
Challenge ends May 31, 11:55 PM EST
Now this month I have done something completely different for my DT project to help inspire you.
If you've been around my blog for a while, you know how much I love creating digital papers and other kinds of embellishments. Well this week, I have taken one of the images from the Fresh Brewed Design's store and made it into a digital paper and some other digital embellishments for MY OWN PERSONAL USE on future projects.
You also know how much I love increasing the versatility of the images I work with, and as long as you have permission from the original artist, this is just one more way to play around with images.
Now, please note that I sought out and received permission from Heather to do so.
Which brings me to the following Disclaimer:
If you decide to do something similar, it is imperative that you read the terms of use for each and every image that you work with and that if you don't find a clause from the creator

regarding their policy on

turning their images into digital creations, that you contact the original artist. Terms of use or angel policies will differ with each and every company selling digital images. While some companies do not take issue with their images being made into digital creations, others do, so make sure you seek permission from EACH COMPANY involved. Also, keep in mind that if you do create a digital piece of work, even with permission, this does not alter the fact that the original image belongs to the original artist(s). Creating a hybrid project DOES NOT allow you to claim the new creation as your own and do with it as you wish.
Please also keep in mind, that any of these new creations that you make would strictly be for your
OWN PERSONAL USE and the rights to the original image lie with the original creator. What you are left with is a creation that you can use over and over again, just as would other digital papers and embellishments as long as you provide credit to the original designer. It could be something as simple as, "Digital paper created by me using an image, with permission, from Fresh Brewed Designs".
Here is what I came up with. I chose the picture inspiration and used the colours. Also, what goes better on a plate than goodies...
So now I have a fun set of images that I can use on future birthday cards. The first creation is a 6 inch by 6
inch

piece of paper. Then I decided to create some matching brads, one for each different coloured cupcake stack. Finally I decided to create a ribbon. In fact, I have already used the paper in this set for a card that will be coming out on Friday for another DT project. However, I think it is okay to show you right hand side of the inside of my card here...
I am really pleased with how the paper turned out. I created the sentiment to match the overall theme of the card. You'll just have to come back on Friday to see the rest of it!
Thanks to Heather, I will be able to use these creations for years to come in more birthday cards. Working with digis is just so much fun and there are just so many things you can do. Remember though, seek permission before doing something similar.
So what will you come up with for our current challenge? Get your mojo on and join us! We look forward to seeing what you create!!!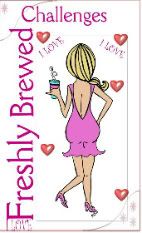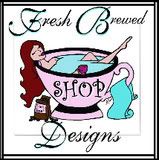 At Fresh Brewed Designs we always have a fresh pot of creativity brewing. So stop by and join us for a cuppa whenever you want!