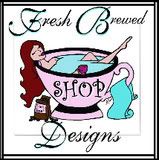 Happy Monday all! I hope you will stick around with me today as it is another busy Monday for me.
First on the agenda, I am introducing the newest digis to hit the FBD store. Heather is releasing two wonderfully chill im
ages; so, sit back and bask in the wonderfully relaxing vibes of the two newest digital images.
First up we have this peaceful, island spot built for one. Whether you are stressed out or just in need of some extra sunshine this summer, this is the perfect digital image to help you achieve that effect.
Next up we have this relaxing image. Ahhh, sitting on the deck, overlooking the ocean as the sun sets over the sea, your favourite book by your side. What could possibly be more relaxing than that.
I created this birthday card using this fabulous image...
Digital Image:
You'll be able to grab this or any of the new release images in the store.

I've coloured this image with a combination of chalk, coloured pencils and Copic markers. While it is hard to tell, the sky actually is coloured in a light blue chalk.

Here is a close up of Heather's gorgeous relaxing image. Man what I would give for those legs...
Embellishments
:
These cute little flowers are Crafts brand from Dollarama.
INSIDE
Digital Sentiment:
OVERALL
Paper Products:
Card base: Michael's Recollection's card kit.

Designer Paper:

Paisley paper (front & inside)--Recollection's Paisley and Damask Paper Pad.

The sand, orange and teal cardstock strips and teal shadow (front & inside) is

from Michael's open stock scrapbook paper.
Challenges I wish to enter include:
Hopefully I'll get the opportunity to actually enter a challenge or two later this week and/

or month.
Know of anyone going on vacation or even having a staycation sometime during the remaining month of summer? Well then, one or both of these images would be perfect on a card sent from you.
You can find both of
these fabulous new digis
at the Fresh Brewed Designs store TODAY!
But wait!
There is one more new release up for grabs...
Isn't she just adorable? Blowing bubbles was always a favourite past-time as a child. Even as a teenager and young adult looking after other children, it was always a thrill to see the look on a young child's face as they tried to catch the bubbles they made. Some images have such power to bring us places, whether a memory or to a future desire; and, the quality of Heather's images always bring me exactly where I need to be.
Thanks so much for stopping by and checking out my card and the latest digital images over at Fresh

Brewed Designs.

I hope you have the chance to take some time for yourself, grab a cuppa and relax while browsing through the store. Maybe one or two of them will find their way back home with you.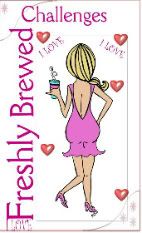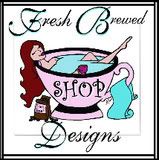 At Fresh Brewed Designs we always have a fresh pot of creativity brewing. So stop by and join us for a cuppa whenever you want!
Well that is one post down. There is at least one more for sure over here, possibly another and then of course the new challenge begins today over at Path of Positivity as well. It is going to be a busy day so I hope to see you all back throughout the day.
Until an hour from now,