In case you missed it, Monday, October 6th, saw the release of a whole new line of images. If you haven't seen them all yet, let me introduce you to them...
Sir John A. McDonald Public School recently had a Dress Up Pageant for their 2nd grade students. Many of the children participated and there were 12 in particular who went all out with their costumes.
Lily started off the pageant with her home spun cotton candy outfit. Her mom did such a great job creating it. Doesn't she look so sweet?!
Bradley was next up on stage sporting his dinosaur costume. He is quite a fan of all things dinosaur related. He is planning on having a rip roaring good time today.
Joy buzzed up onto the stage next with her cute little Bumblebee outfit. She flitted here and flitted there ensuring everyone got a good look at her costume. It really is the bee's knees isn't it?! Although, the judges better watch out if she isn't on their best dressed list. Joy packs quite a punch with that stinger!
TR went up next. He decided to dress up as an alien as he just loves all things science fiction. In fact, it is his favourite genre. His costume looks out of this world, right?!
Jenna and Joshua are next door neighbours and have been playing together since they were both in the crib. Their parents thought it would be cute to dress them up as a little bride and groom

.

They traipsed up on stage hand in hand while the wedding march played in the background.
Bruce plans on being a doctor when he grows up so he figured he would get some practice in today, not only looking the part but practicing the art as well. He has been busy
all day
dispensing out apples to help prevent his friends from having to go and see any other doctor.
Yvette is very active in general and has the tendency of popping up all over the place. So, it was only fitting that she dress up like a container of popcorn. It is a bit cheesy but that is only because she sprinkled on some fake orange flavouring at the last minute to give herself a bit more colour.
Jeremiah is always being told to settle down in class and stop clowning around. Therefore he thought it would be fitting to show up for today's pageant looking the part. Although I would advise staying away from that flower on his chest if you plan on staying dry.
Hannah just loves fairy tales and always pictures herself as the princess when her dad reads to her each night before bed. Spending today dressed up as an ice princess is a dream come true. She had fun waving to her subjects as she walked across the stage.
Brian's dad is a fireman and Brian tries to emulate his father in everything that he does. Thus, he decided to dress up just like him for today's pageant. Later on tonight he'll be taking a picture with his dad in uniform when he comes off shift. He can't wait!
Lindsey is the tiniest girl in the class and she decided that she wanted her costume to stand out; so, she decided to dress up as a strawberry. Of course in hindsight, that may not have been the best idea. Her costume turned out so realistic that people have been trying to take a bite out of her all day.
Finally that leave James. If you haven't guessed yet, this young lad's favourite season is winter. Dressing up as a snowman is his tribute to his favourite winter pastime and of course to his favourite fictional character, Frosty.
So, there you have it. Twelve adorable children all dressed up in a wide array of costumes.
As each of the outfits was so different and unique, it was only fair that they

were all deemed winners that day, each receiving a special badge.
Why not share one of these sweet images on a card for a special child in your own life? Whether for Hallowe'en or paired up with one of the fabulous new sentiments that Heather has come out with, any child in your life would be lucky to receive a special card from you featuring one of FBD's latest images.
Be sure to go and check all of the new costumed cuties available in the Fresh Brewed Designs store. You can find them all in the Dress Up Kids section. Clicking HERE will take you to that area of the store. To locate any of the new sentiments click on the watermark above or HERE.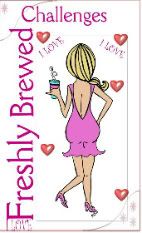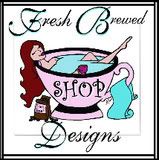 At Fresh Brewed Designs we always have a fresh pot of creativity brewing. So stop by and join us for a cuppa whenever you want!
Have a great weekend everyone. Until next time,