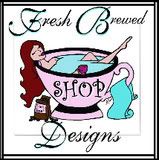 It is another busy week and what better way to start it than with showing off the new releases going on over at Fresh Brewed Designs. It may be the last day of September but October's images are out, so come and see what is new TODAY!
This Fall Flower Fairy is so tiny that she fits comfortably underneath the flowers in your garden. That is great camouflage when you are just a few inches tall and need to be making your escape from some not so friendly backyard predators. She'll help attract all the pretty birds and butterflies into your backyard so make sure you go and grab her today. She is the perfect fall feature for your garden or window box.
This Apple Blossom Fairy is sure to help your trees blossom with fresh ripe fruit making your bounty even more blessed! If you have fruit trees on your property, you'll definitely want this special fairy to come home with you!
This guy looks like he could play hide the acorn with the local squirrels. If you are having a problem with squirrels in your yard then you definitely will want to purchase this Acorn Fairy because he'll find all the acorns that have been stashed on your property and help lure the squirrels to a better locale, like the local park. This little guy decided he wanted to adorn the front of my card so of course I had to oblige him!
Here are the card and details. I hope I haven't forgotten anything...
FRONT
Digital Image:
You'll be able to grab this or any of the new release images in the store today.

I've coloured this image with a combination of coloured pencils and Copic markers. The ground work is in pencil and the remaining colouring is done with Copics. Colours used include: E000, E00, E02, R20 (skin); Y32, Y35, Y38 (hair and jumpsuit); YG61, YG63, YG67 (coat and boots); R11, R14, R17 (wings); E13, E15, E19 (acorn); and BG10 for grounding around the entire image.
Ribbon:
The brown ribbon is Crafts brand from Dollarama.
INSIDE
This is one I got as a freebie from the wonderful Paulette of Create with TLC.

Click HERE to go to Paulette's blog and HERE to go to the store.

While the image is no longer available for free, you can get it as part of the

Stuffed Digi Stamp Set available in the store now. Click on the watermark below to head to its location in the store.
I've coloured this image with Copic markers. Colours used include:

YG63, YG67, R11, R14,

Y35, Y38.
OVERALL
Paper Products:
Card base: Michael's Recollection's card set, white. small.

Designer Paper:

The dotted paper (front and inside) is from Recollection's All Seasons Paper Pad.

The brown cardstock used on the front

is

Crafts Brand Cardstock, available Dollarama.
Love the fall? Love fairies? Then you can't get much better than the combination of the two: Fall Fairies! Actually, that is not true. There is something better. What about Fall Fairies on sale?! Yes, you heard me. Pick up the trio of fairies at the same time and only pay $6.00 (US) for the entire group! However, you need to hurry as this bundle deal will only be available until 11:59 pm, on Saturday, October 5th, 2013.
Thanks so much for stopping by and checking out my card and the latest digital images over at Fresh Brewed Designs. I hope you have the chance to take some time for yourself, grab a cuppa and relax while browsing through the store. Maybe one or two of them will find their way back home with you.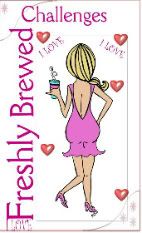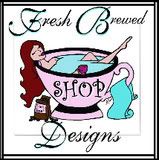 At Fresh Brewed Designs we always have a fresh pot of creativity brewing. So stop by and join us for a cuppa whenever you want!
Until an hour from now,