Wow, has this been a busy long weekend for me, or what? That is of course if you were around to notice it. Since Friday, I've created ten different posts over the course of three separate blogs so far and that doesn't include what is to come out today. Phew, good thing I'm starting to be on the mend although if you caught last night's plea, a few other tests are being thrown my way.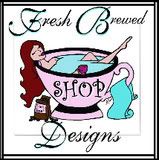 But now it is time to get on with my Monday tasks and first thing this Monday morning I am here to show you one of the latest new images coming into the Fresh Brewed Designs store today.
Heather has created the sweetest little line of animals. There are five in total: a bear, a squirrel, a fox, a beaver and a hedgehog. You'll definitely want to head to the store to check each of them out.
Here are the card and details. I hope I haven't forgotten anything...
GENERAL COMMENTS:
Since there are a total of five of these cute little critters, I have decided to create a set of simple notecards. I'll be showing you one of them today and then revealing the others (hopefully) during my regular monthly post on September the 14th.

This set is going to be a gift for my sister-in-law in London, Ontario. When we visit London, she always has a spare room for us and I never know what to get her so I figured this was definitely something she could use.

I do have to apologize for the quality of this picture. With the camera out of commission, I've had to resort to scanning my cards once again which makes for a rather poor image.
FRONT
Digital Image:
You'll be able to grab this or any of the new release images in the store.

I've coloured this image with a combination of coloured pencils and Copic markers. The ground work is in pencil and the hedgehog and grounding around the image is done with Copics. Colours used include: E000, E00, E02, E11, E13, E15, E19, and B00.
Digital Sentiment:
This is one of about 30 versions of the word 'Bonjour' (which of course is French for 'hello') that I created. I made this set of French words for one of my readers who won one of the little 'draws' I often have on my blog. Since my sister-in-law is French and has many friends who speak French, I know she'll find this simple notecard to her liking.
INSIDE
The inside has been left blank to allow the recipient to add her own personal message.
OVERALL
Paper Products:
Card base: Michael's Recollection's cardstock, white.

Designer Paper:

The shimmery brown cardstock used on the front

is

from Michael's open stock scrapbook paper.
So, if you enjoy cute little critters like I do, you are definitely going to want to head over to the store to take a peek at the latest digital images arriving today. These cuties are extremely versatile and could be used on a variety of cards.
You can find all five
fabulous new digis
at the Fresh Brewed Designs store RIGHT NOW!
Thanks so much for stopping by and checking out my card and the latest digital images over at Fresh

Brewed Designs.

I hope you have the chance to take some time for yourself, grab a cuppa and relax while browsing through the store. Maybe one or two of them will find their way back home with you.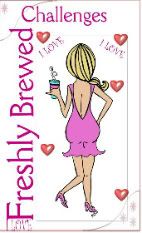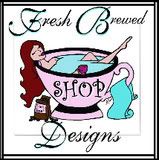 At Fresh Brewed Designs we always have a fresh pot of creativity brewing. So stop by and join us for a cuppa whenever you want!
Well that is one more post in the bucket. There is at least one more for sure over here, possibly another and then of course the new challenge begins today over at Path of Positivity as well. It is going to be another busy one folks, so I hope to see you all back throughout the day.
Until an hour from now,