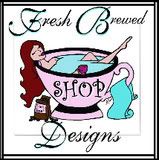 Happy 2nd Saturday of the month all you lovely people who have taken the time to come and pay me a visit! I'm here today with my monthly Fresh Brewed Designs project. Today I am buzzing in show off this sweet little honey bee which y
ou can find in the Fresh Brewed Designs (FBD) store under the section

,
Animals - Bugs
and then
Bugs
or you can just click on the watermark below to head straight to where this image is located.
Here are my project details,
I hope I haven't forgotten anything...
General Info

rmation:
Isn't he just the sweetest little bee? I'd even go as far as saying BEEautiful but I wouldn't want to crush his poor little ego by calling him anything less than handsome.

I avoided the traditional black and yellow and went with brown and yellow instead. This way he matched the DP so much better.
FRONT
Digital Image 1:
Honey Bee

: As mentioned

above

,

t

he image on the front of the card is

available in the store. You can find it by clicking on the watermark above.

I coloured it in using Copic Markers

. I'm afraid I've misplaced my upstairs (and downstairs) colour charts so I'd only be guessing at the numbers. I used chalk to achieve grounding around the image.
Digital Sentiment:
INSIDE
The above image is an overall view of both sides, inside my card. I decided I wanted to dress up the left hand side a bit and fussy cut the hexagonal and flower shapes from some of the DP I used.
With a closer look at the right hand side...
Digital Image:
This funky bee I used on the inside is from the Kenny K Critterz Collection. I actually picked this image up as a freebie some time last year. However, when I went over to the site to grab the watermark, I noticed that 'Bumblebee' is once again the freebie for this month so head on over to the main page to grab him: Kenny K Downloads. For anyone who may not get to see this post until after the freebie has expired, I've linked up the wa

termark to head to where you can find it in the store.
I decided to keep things simple for the inside and chose to use Bumblebee simply as line art to accompany my sentiment.
Digital Sentiment:
One I created to match with the front.
Card base

:

Michael's Recollection's card kit.

Designer Papers: Both papers I used are from the Ki Fancy Free paper pad.
Challenges I hope to enter include:
It is po

ssible that

I'll be adding to this list as the week or month goes on.
Well that is it for my month

ly FBD post

. I'll be back each 2nd Saturday

of

the month with another creation to show you. Of course, I'm sure I'll be

showing off other images and/or creations using Fresh Brewed Designs images

during other times of the month as well, so you'll want to keep checking to make sure yo

u don't miss any of Heather's superb images.
Thanks for stopping by and taking a look

.

I hope you have the chance to go and check out the sweet

i

mage I've showcased today and maybe even bring one or two back with you on the journey home.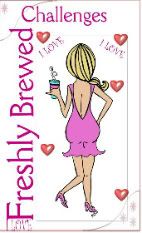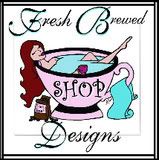 At Fresh Brewed Designs we always have a fresh pot of creativity brewing. So stop by and join us for a cuppa whenever you want!
Until next time,