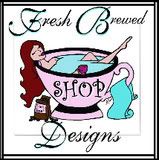 Hello everyone! I'm here today with my monthly Fresh Brewed Designs project. Today I have a 'sweet' treat for you featuring Heather's wonderful

Cupcake Stack Birthday digi.
You can find it over at the Fresh Brewed Designs Shop. Just click on the watermark and it will take you to its place in the store.
Here is the front of the card I created to show off this wonderfully versatile image...
Here is a closer look at all that yummy goodness...
Here is the inside of my card...
Here are the card details,
I hope I haven't forgotten anything...
General Info

rmation:
It was so fun working with this awesome image. I had been eying it for awhile and when coming up with an idea for a male friend's birthday card I just kn

ew the perfect image to use.

The fun and versatility of this image is that the next time I use it and it ends up being for a female's card, I could bling up the cupcake by adding lots of glitter or sprinkles or even decorate the wra

pper with little tiny flowers.

I also love how this image doesn't just have to be used for a birthday, it could be used for any type of celebration or even a 'make a wish --dreams come true' kind of card. Yum, yum, yum in so many delicious

varieties

.
FRONT
Digital Image:
Cupcake Stack Birthday digi

: As mentioned

above

,

t

he image on the front of the card is

available in the store. You can find it by clicking on the watermark.

I coloured it in using Copic Markers. Cupcake Stack:

R22, R24,

R2

9

(

f

rosting)

;

B00, B02, B05 (wrapper & candle stripes); Y11, Y13, Y15, (

remainder of c

andle

)

; Y17, YR04, YR07 (

f

lame)

.
Digital Sentiment:
Have a Yummy birthday

:

The sentiment is a freebie I picked up from BrossARTaddiction. Tracey has a bunch of cool sentiments. The link will take you to the page where you can find the different 'yummy birthday' ones. For more choices, click on the free digi sentiments tab at the top o

f the page.
INSIDE
Digital Sentiment:
I

n

side background:

The

word art

that I used in the background is from the ever talented San over at San's designs. It is part of the birthday set and can be found in San's store HERE.
May all your wishes come true

:

The sentiment is a freebie from the source wher

e I get the majority of my sentiments, the amazing

Paulette from Create with TLC. It is part of the Wishes Word Art set that you can find in the store HERE.
Card base

:

Michael's Recollection's Cardstock, white.
Designer Papers: Patterned paper (front

)

--Recollection's Bold & Basic Paper Pad. Solid red paper (front and inside)--Michael's open stock scrapbook. Shimmery white (front)--although you can't really tell, the shadow in behind the sentiment and the white strip at the bottom are

a shimmer paper,

Michael's open stock scrapbook.
Embellishments:
Foam h

earts

are from Dollarama.
Challenges I hope to enter include:
It is po

ssible that

I'll be adding to this list as the week or month goes on.
Well that is it for my first month

ly FBD post

. I'll be back each 2nd Saturday

of

the month with a new image to show you. Of course, I'll probably be

showing off other images and/or creations using Fresh Brewed Designs images

during other times of the month as well, so you'll want to keep checking to make sure yo

u don't miss any of Heather's superb images.
Why not head over to the store now and check out the lat

est buzz

. Just this week Heather has added the following cute bugs, just in time for

bug season. At least these ones you won't want to swat away!
Aren't they bee-utiful? You can find them on the

main page of the store (i.e. home).
I

f you hurry,

y
ou can also find a sweet little free sentiment perfect for any last minute cards or tags for mom

.
Thanks for stopping by and taking a look

.

I hope you have the chance to go and check out all the

i

mages I've showcased today and maybe even bring one or two back with you on the journey home.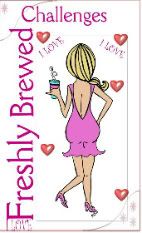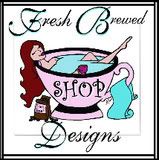 At Fresh Brewed Designs we always have a fresh pot of creativity brewing. So stop by and join us for a cuppa whenever you want!
Until next time,
Note:
I apologize if there are any formatting issues. This is a scheduled post and we all know Blogger has a mind of it's own. If it turns out that something looks wonky,
i.e.--part of the sentence is a different size, font, or colour than the rest
,
I'll fix it as soon as I'm able to

.